8 Customer Journey Mapping Tools You Should Try
June 5, 2019
Understanding the steps users take as they interact with your brand and how they feel along the way is crucial to managing in today's digital experience landscape. A customer journey mapping tool gives you the ability to put yourself in a customer's shoes and see what the end-to-end experience is like. By visually representing this process, you can begin to understand which of your company's touchpoints bring joy and which cause frustration for the customer.
But which customer journey mapping tool is right for you? In this article, we walk you through eight industry leaders. And when you determine the best tool for your use case, be sure to check out the ultimate customer journey map template by Qualaroo to help you get started.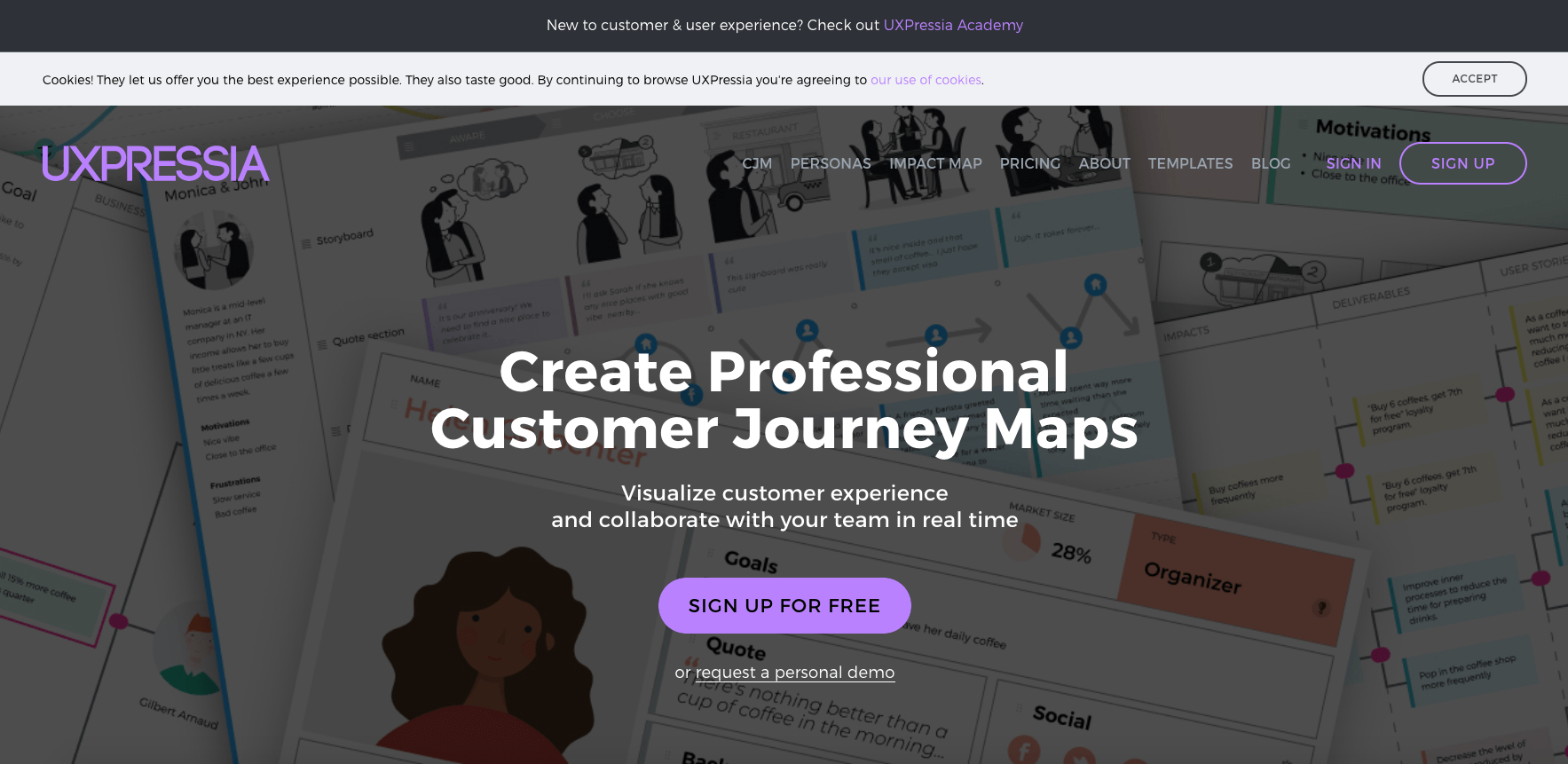 What you can do with it: A customer journey mapping tool that enables your team to collaborate in real time, UXPressia also has features for creating elegant persona cards as well as impact maps. Born out of the frustration of a group of designers, this tool lets you rapidly produce a journey map in one of 30 templates tailored to specific business sectors. You can even incorporate real-time analytics.
What makes them special: For those who are new to customer and user experience, they offer practical courses in their online UXPressia Academy. Want to see what the end product will look like? UXPressia doesn't keep their maps close to the vest—you can download real-world examples here.
What you can do with it: As you would imagine for a product from Big Blue, this journey mapping software is more buttoned down and straightforward, with less flash than many of the tools from startups. But what Journey Designer lacks in flash, it makes up for in substance: with near-instant collaboration for teams across your organization and supporting agencies, the ability to look at online and offline channels, and a view visualizing the customer experience over time.
What makes them special: While most customer journey mapping software may be hosted in the cloud, IBM is in a class of their own when it comes to ensuring that your data is secure. Journey Designer can be hosted in an environment that meets either EU-US and Swiss-US Privacy Shield Framework or ISO 27001 standards. Additionally, the tool integrates with Watson Campaign Automation to help you build smarter marketing campaigns by leveraging their AI platform.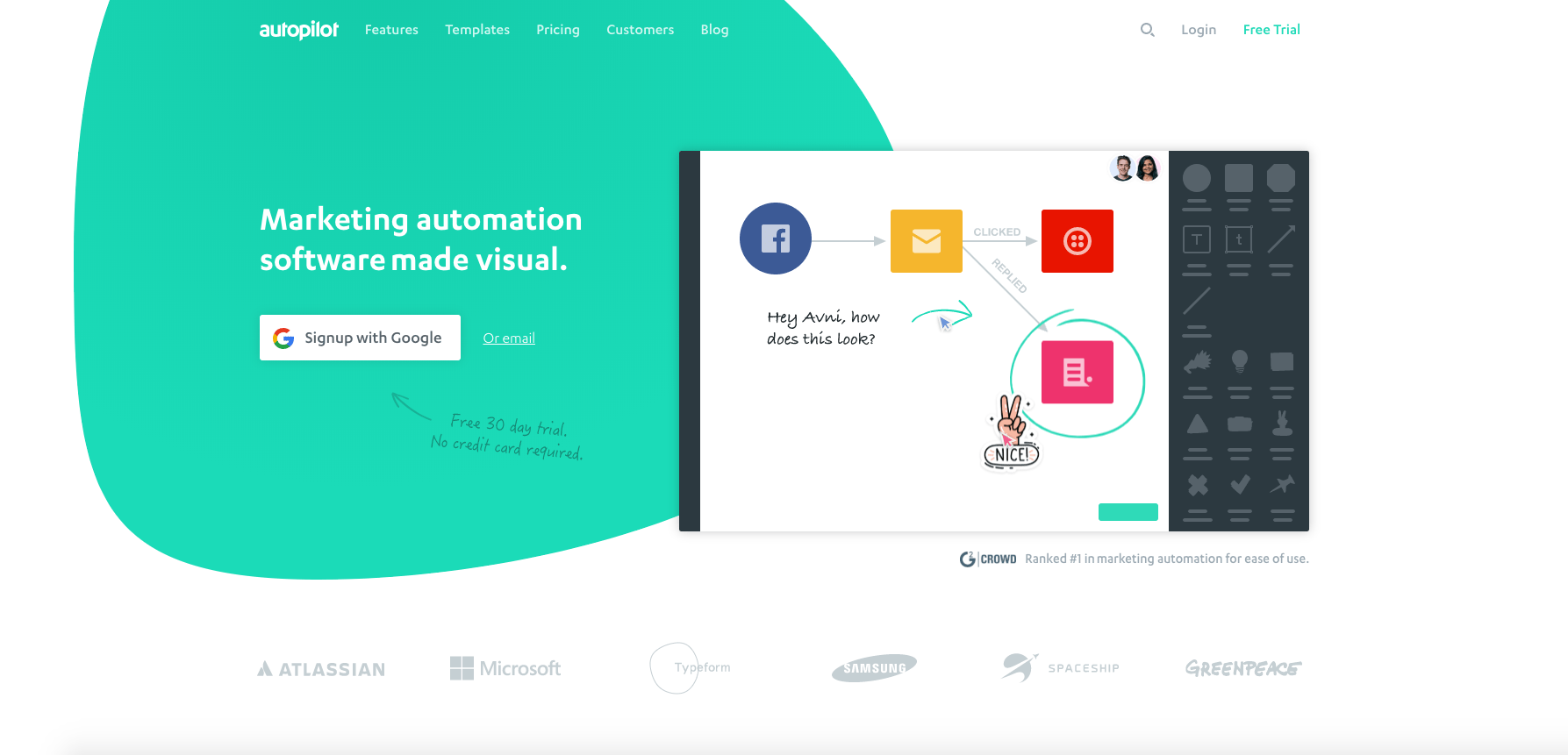 What you can do with it: This beautiful web interface allows you to drag and drop icons and text to define the customer journey. But Autopilot is more than a mapping tool. As the name would imply, it helps you automate your marketing efforts across multiple channels according to the customer's actions. Through the interface, you can not only define the experience, you can also automate triggers to personalize the experience.
For example, if a user opts in to a particular event via email, you can then programmatically send an SMS or email reminder prior to the event—all this can be defined within Autopilot. The tool can also sync leads/prospects to CRM applications, like Salesforce and Pipeline, and lets you easily segment customers by the channels they've interacted with.
What makes them special: Besides automating different touch points in the customer journey and providing intelligent, mobile-friendly insights, Autopilot offers onboarding and support packages for an additional cost. Plus, you'll pay by the exact number of users in your database—there are no price tiers, such as 30,000 to 50,000 users. If you have 34,868 users, you get charged for that amount. Finally, Autopilot offers a 30 percent discount for nonprofit organizations, and for all plans of 500 users or less, they donate the fee to the Sydney Children's Hospital Foundation.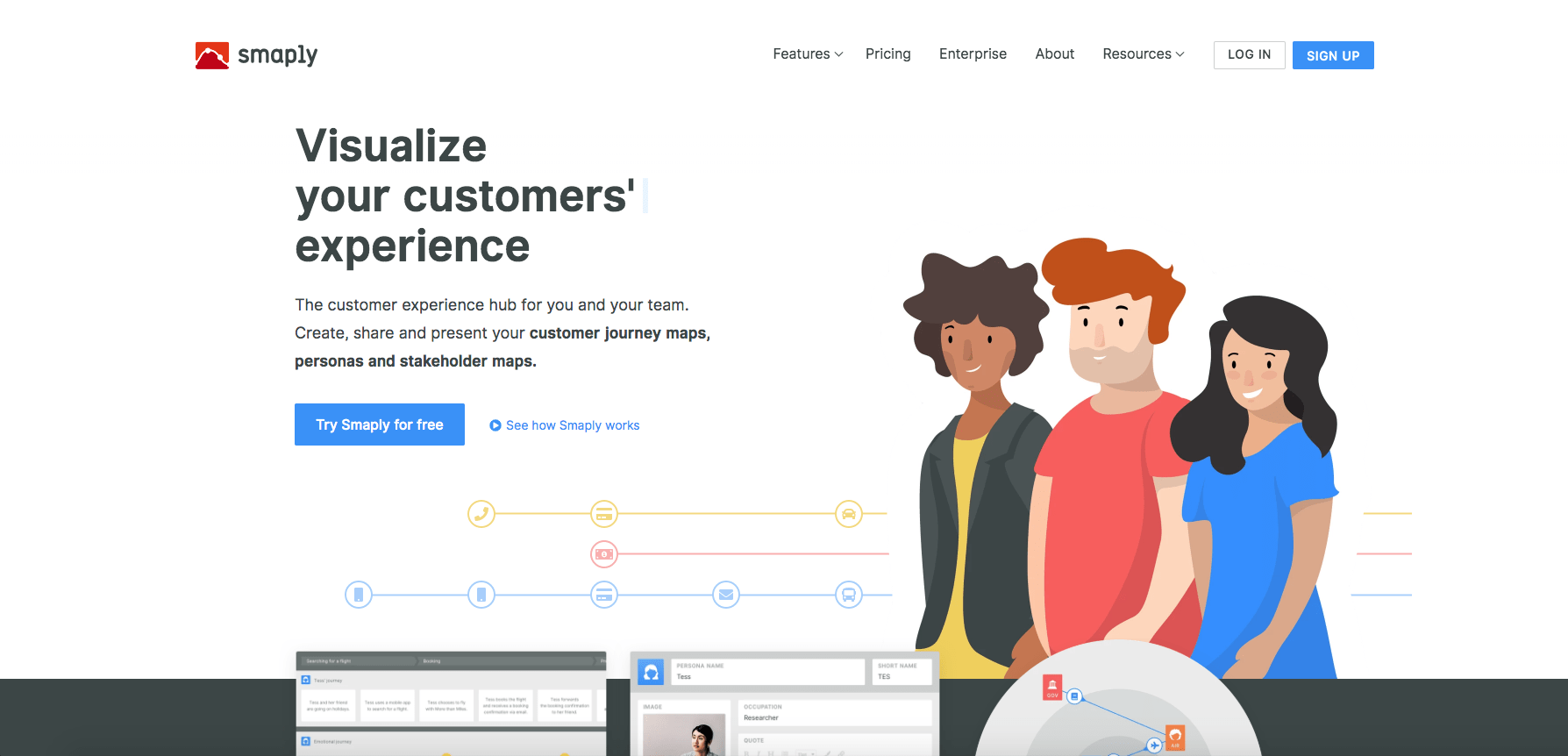 What you can do with it: Through an intuitive interface, Smaply enables users to create a customer journey map that shows the overall emotional journey of a user by channel. They also offer a "live share" mode so you can broadcast your customer journey map during meetings, ensuring that the most up-to-date version is being used. Smaply also has a feature called Stakeholder Maps that lets you visualize the relationships between your internal stakeholders and shows how they influence the customer journey by connecting them to the journey map.
What makes them special: Smaply recognizes that we are inherently visual creatures, so in their Business plan they include a gallery of professional illustrations so you can better connect with a user's experience. Smaply also has what they call the "backstage lane," a way to see all the behind-the-scenes processes occurring in tandem with the customer journey. This feature helps identify opportunities for your internal stakeholders to improve the customer journey.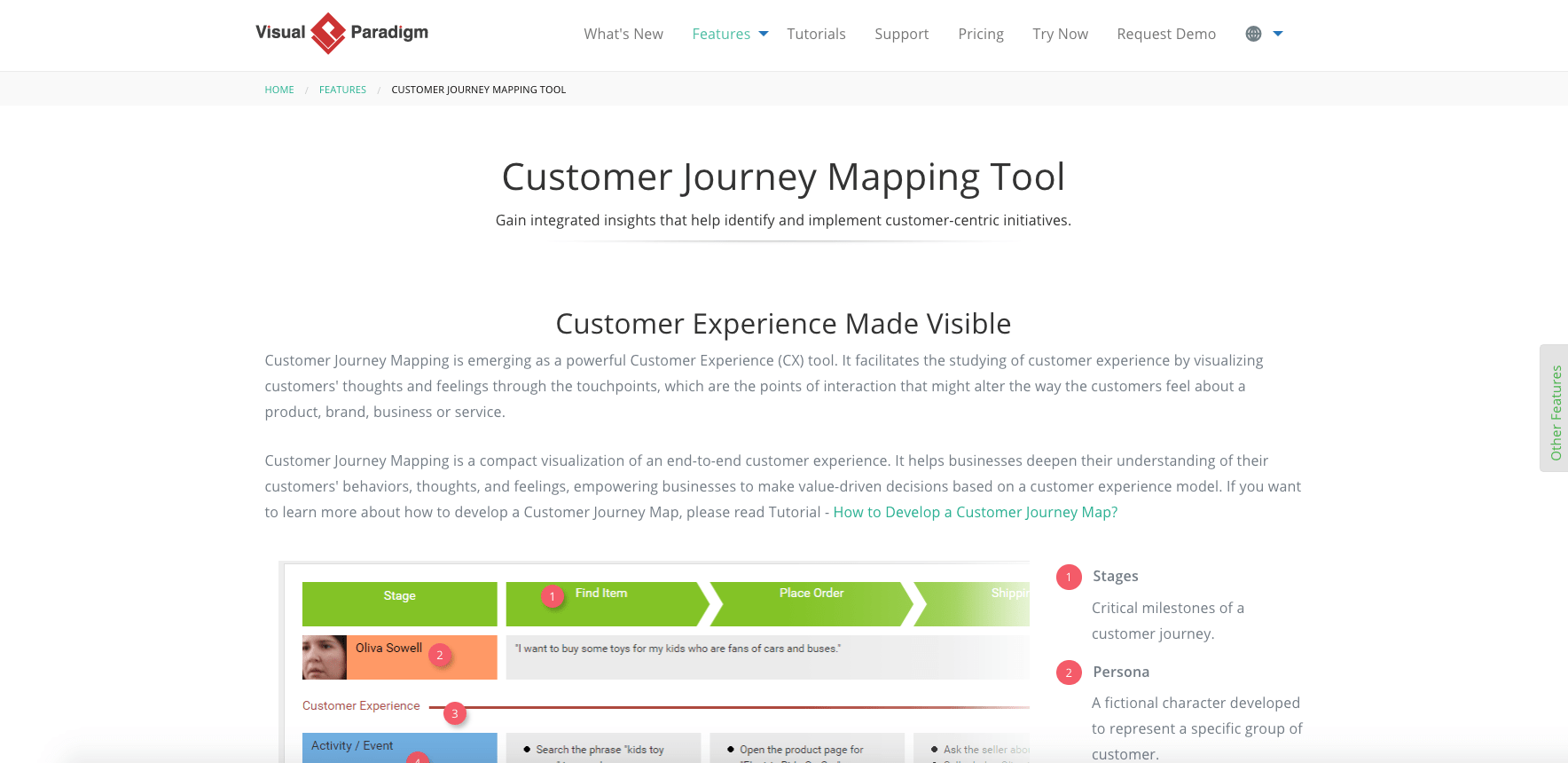 What you can do with it: In addition to mapping out the customer journey in a graphical format, you can create links within the tool that reference particular touch points, customer emotions and possible solutions. These linkages can appear on the customer journey map, allowing stakeholders to dive further into your analysis when looking for solutions to gaps in the customer experience.
What makes them special: The customer journey mapping tool is just the tip of the iceberg of what you get with Visual Paradigm. They also provide graphical tools to help manage the scrum process and user stories. There are tools to help your technical staff manage the codebase, database and enterprise architecture. Finally, if your organization does not have a UX mockup tool yet, one is included with Visual Paradigm.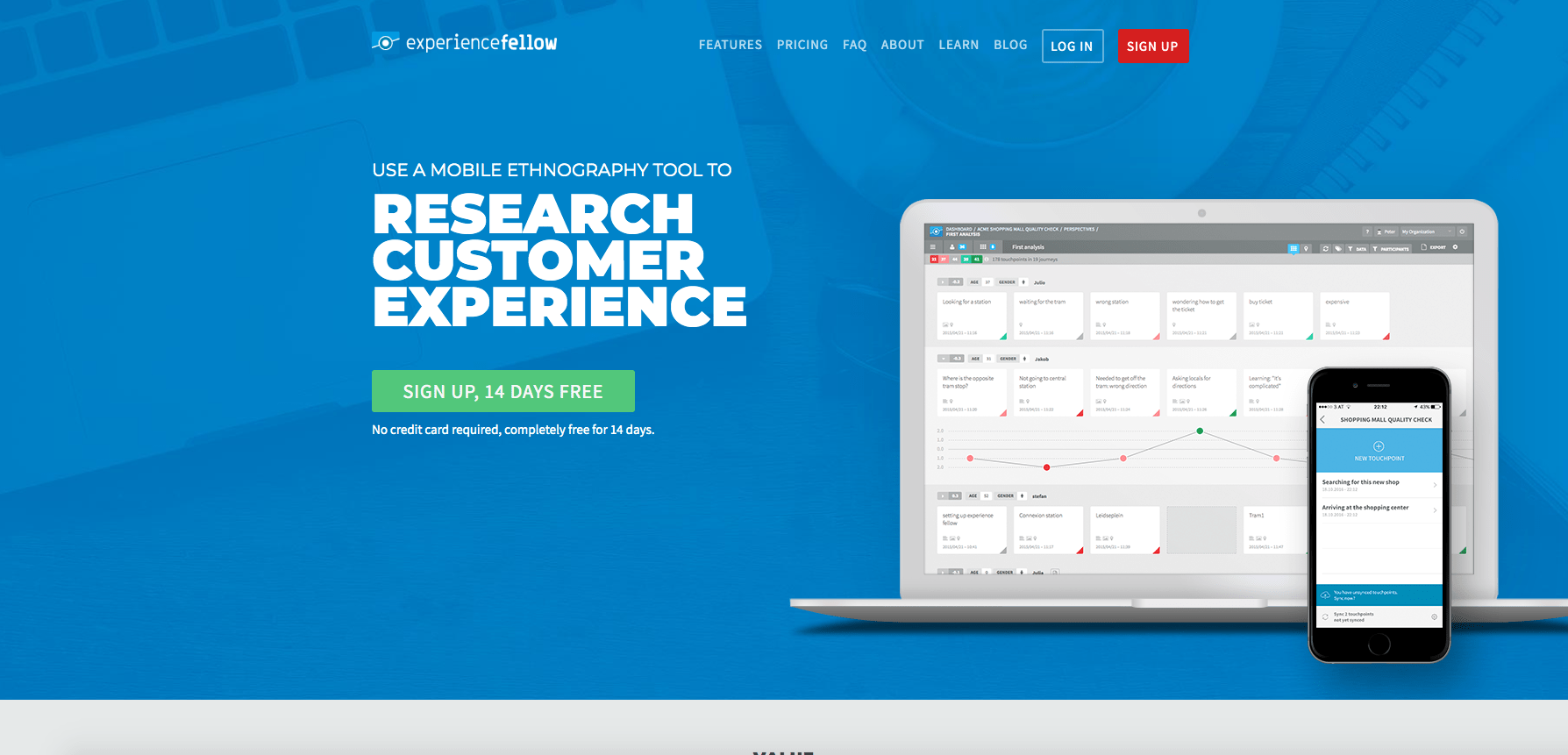 What you can do with it: Rather than creating a customer journey based on your understanding, ExperienceFellow brings in customers' feedback from different points in their journey to build a map for you. Taking all the customer touch point data, you can export the findings as a journey map to help you determine which steps delighted a user and which need improvements.
What makes them special: Users who opt in to a customer journey mapping research project download the ExperienceFellow app and begin providing insights. As the data flows in, you'll segment by different personas, geographies and filters to help your team create a comprehensive customer journey map that reveals their emotional state. The user data is gathered in real time and you can share the dataset to collaborate with other researchers.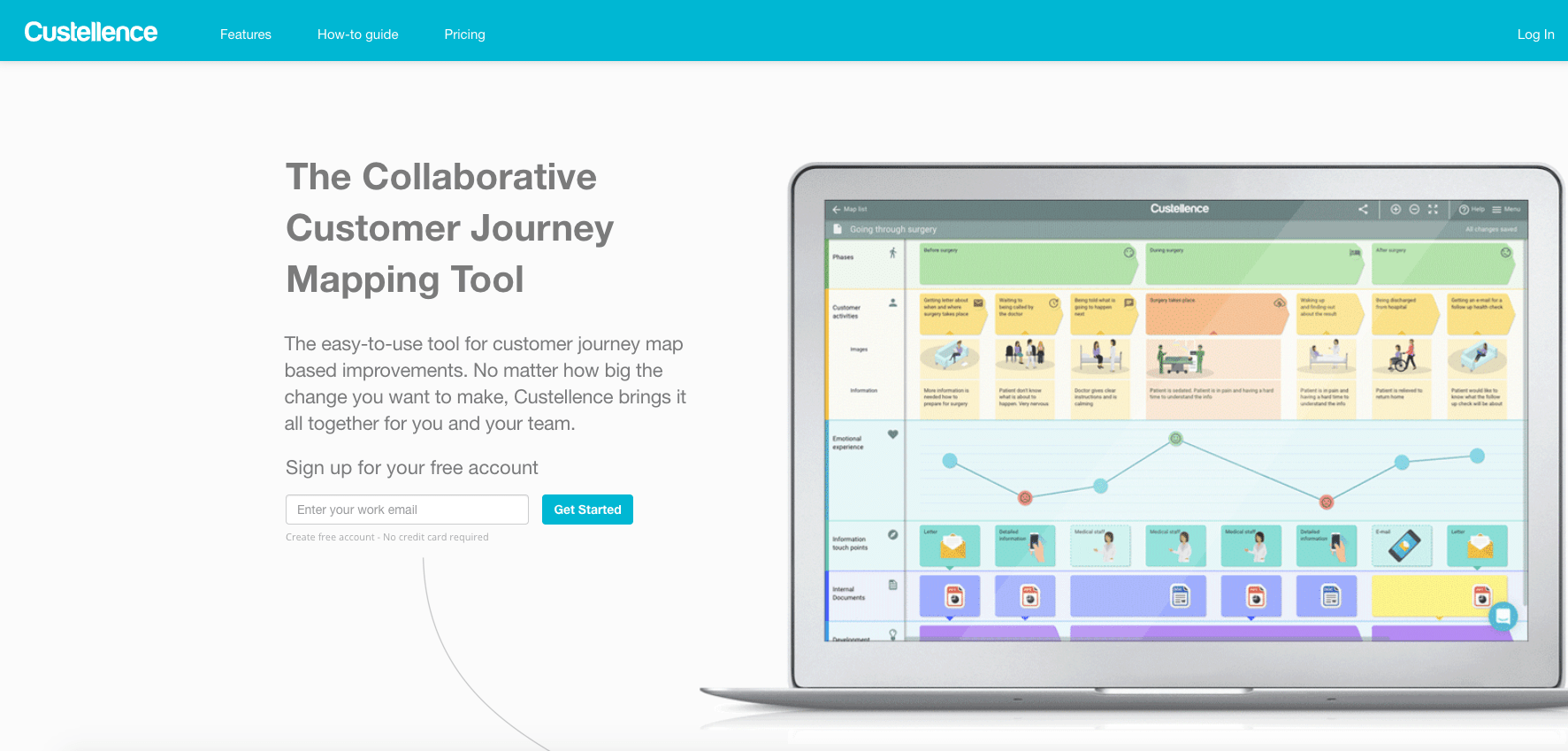 What you can do with it: A simple-to-use drag-and-drop interface allows you to not only view a map of the customer's journey, but also see the measure of their emotional experience along with the costs to implement improvements. Custellence offers a one-hour online master class to ensure that you can hit the ground running when you sign up.
What makes them special: While customer journey maps contain valuable information about a user's experience with your product or service, they can quickly become overly detailed and cumbersome for the non-UX professional. To help simplify your insights for the executive crowd, Custellence provides a bird's-eye view that lets you choose the level of detail shown in the map depending on your audience.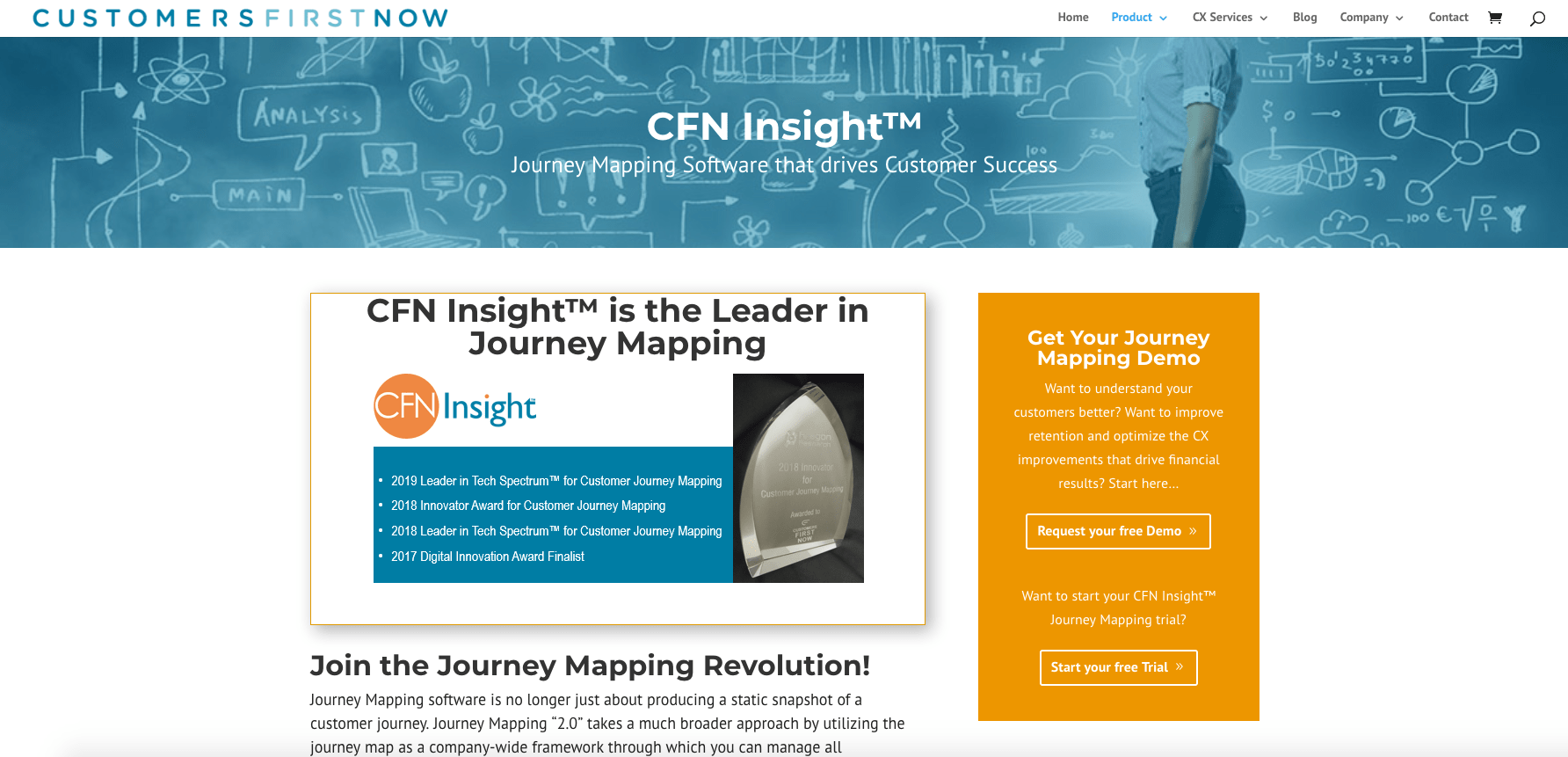 What you can do with it: In addition to building out a customer journey map, with CFN Insight you can also assign an owner to be accountable for each customer touch point. Within the Actions tab, you can require the owner to gather certain steps and metrics.
What makes them special: CFN Insight wants to make sure that the customer journey map is not created purely as an exercise for corporate leaders. By assigning owners to different points of the customer journey and producing an Action Scorecard, CFN has helped companies in more than 10 industries drive real financial results.

Do you want a free Survey & Feedback Software?
We have the world's most versatile user research & feedback survey tool starting at $0
More posts
July 17, 2020
Product managers. Product designers. UX researchers. UX/UI designers. No matter what your role is, if you work in the product or in the UX department, your product roadmap is just that. A roadmap. A trajectory for where your product is headed, with milestones and target deadlines all along the journey.
Read more